Top 6 Chiropractic Personal Injury Advertising Pay Per Click Strategies
Chiropractic PI Marketing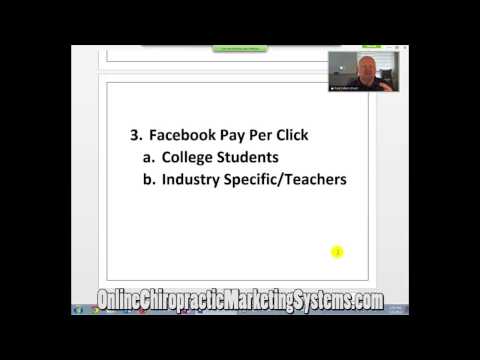 These are the top chiropractic personal injury advertising pay per click strategies:
Patient Video Newsletter
Google Pay Per Click
Facebook Pay Per Click
Direct Mail
Local Paper Classifed Ad
Office Sign
Patient personal injury video newsletter because 2% of your patients are involved in auto accident injuries every year and they have a circle of influence of 7. Video in the e-mail auto responder newsletter automates the process with regular follow up.
Google pay per click is used by 16% of searches. Strategically using the proper personal injury keywords will significanly increase the results.
Facebook pay per click allows for psychograhic segmentation unlike Google.
Direct mail combined with a video e-mail auto responder can be a very effective method to get your message across.
The local paper using the classified section can be a very inexpensive method to attract personal injury patients.
A office sign with a clear message connected to a auto responder is probably the single easiest and greatest return on investment for chiropractic personal injury advertising.
Our chiropractic personal injury marketing systems offers all these personal injury marketing campaigns and more. For more information call 813-480-1693.
Like this post? Subscribe to my RSS feed and get loads more!