The Number One Chiropractic Online Marketing Video
Dr. Paul Hollern, Chiropractic Online Marketing Expert
The number one video you should have for your chiropractic online marketing is the number one question you will receive.
The number one question a chiropractic office receives is "Are You On My Insurance Plan"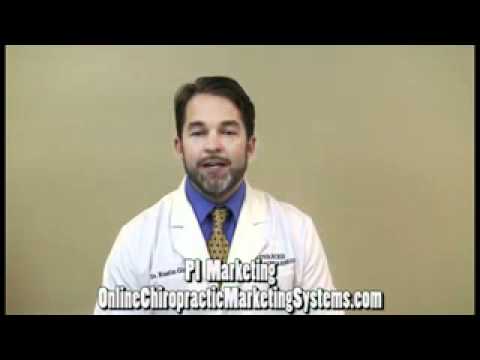 The video should be of the doctor answering this most common question. After the video has been produced it then should be search engine optimized for the number one keyword the potential patient will search which is your location chiropractors.
When potential patients search the internet looking for a chiropractor they will search in their back yard. This is why you should have the video search engine optimized for your city. Be sure not to use the larger city your practice may be in but the suburb.
A common mistake chiropractors make is trying to cover too large of an area. To find your geographic radius of draw post the last six months of new patients on a map. Do not post the patients who where referred because they will drive further distances than patients from chiropractic online marketing.
Draw a circle around the eighty percent, do not include everyone. This is you location of draw weather you like it or not. Market forces dictate this radius and it is always less than what the chiropractor thinks or wants to believe.
So when patients search the internet for a chiropractor in their back yard you will show up and you will be relevant. You will be answering the number one question they have on their mind.
When it's in a video format your chiropractic online marketing video will have the best chance of being viewed. Potential patients will view a video before reading a website, blog or article.
For more information on how chiropractic online marketing can support and promote your chiropractic practice give me a call at 813-480-1693.
Chiropractic Online Marketing, Automated New Patient Internet Marketing for Low Tech Chiropractors.
Call 813-480-1693
Chiropractic Online Marketing Company.
Like this post? Subscribe to my RSS feed and get loads more!