Record 9 of 10 First Page Google Listings by Online Chiropractic Marketing
Client Owns 9 of 10 Links on the First Page of Google for Chiropractic Office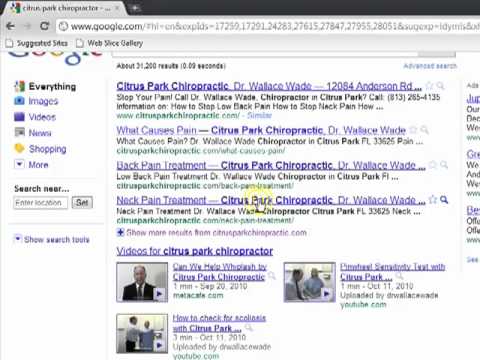 One of my clients just reached 9 of the first 10 links for the first page of Google. Why this is important is online chiropractic marketing has now become the major source of marketing a chiropractic practice.
Dominating Google First Page Brings New Patients
The internet is used more than any other medium for potential new patients looking for information or chiropractic providers.
Over 67% of the population uses Google and 84% will pick a listing form the first page.
Only 16% of the people searching will pick a paid search or pay per click.
They say the organic or middle column is free however it does take time, knowledge and effort to get your chiropractic practice to dominate the first page of Google for your keywords.
Getting on the first page of Google requires knowledge in 3 categories:
Search engine optimization
Copy or content
Website design
The most important componebnt of chiropractic internet marketing is the SEO or search engine optimization. Why? Because if they never find you it will not matter what your page looks like or the information you have on it.
Online Chiropractic Marketing Systems gets your practice business from internet marketing.
Some of the services included are:
Website Blog
Website Content
SEO Search engien optimization
New patient referral systems using the internet
Reactivation systems using the internet
PI marketing using the internet
PI attorney marketing using the internet
Give me a call at 813-480-1693 to make your online chirorpactic marketing work.
Like this post? Subscribe to my RSS feed and get loads more!