Online Chiropractic Marketing to
Release How to Make a Chiropractic Website

Dr. Paul Hollern will soon release video instructions on
"How to Make a Chiropractic Website with WordPress"
In today's market a chiropractor without a website is like a fish out of water. In the last several years consulting with chiropractors I always review where their patients come from.
In over five years NOT one patient came from the Yellow Pages
If it's not a referral, the connection comes through the Internet. Most typically the chiropractors website.
If you haven't heard: Static Websites are Dead
It is estimated over 90% of the web-pages on the Internet are not indexed.
Which means they cannot be found unless the person specifically puts in that domain name or URL. Only 11% of the populations put in a URL and not use the search box.
The blog website is

KING

and gets

Ranked

by Google
The most popular blog website is word-press.
Dr. Paul Hollern is about the release a video instructions on How to make a chiropractic website with wordpress.
This is one of over a hundred videos in the instructions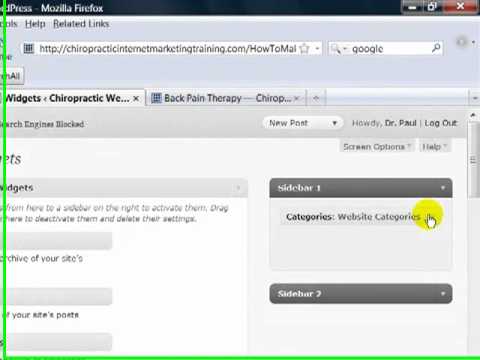 Like this post? Subscribe to my RSS feed and get loads more!