Online Chiropractic Marketing Lead Generation
New Patient Lead Generation Systems using the Internet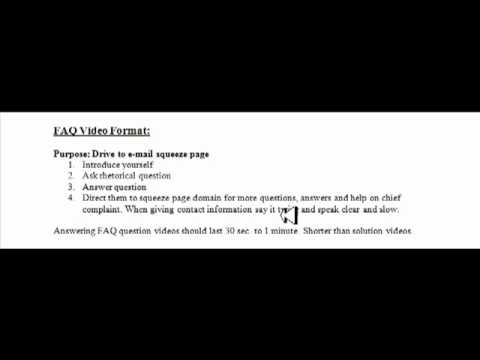 In this video I describe how to create content using online chiropractic marketing which your potential patient would be interested in. You get a list of the common quesitons asked on the internet and in your chiropractic office.
In a short video ask and answer the question, then send them to a specific site where they can get more information on that topic.
You should be sending them to what is called a squeeze page. A squeeze page is noting more than a one page website with the sole purpose of collecting some form of data for a follow up online chiropractic marketing campaign. On the Internet asking for an e-mail address is common, but you can ask for their phone number, address etc.
Some information is harder to get and you will have less success. Also the more information you ask for will result in less success.
After you have received their contact information be sure to set up follow up messages on how you can help that particular problem with a call to action.
Remember, online chiropractic marketing is in the follow-up.
The chiropractor that has good follow up systems, usually has a very good chiropractic practice.
Like this post? Subscribe to my RSS feed and get loads more!