No Doctor Videos Chiropractic Website Mistake
Dr. Paul Hollern, Chiropractic Website Expert
One of the biggest mistakes you can make for your chiropractic website is not posting videos of the doctor.
I'm not just referring to videos but specifically videos of the chiropractor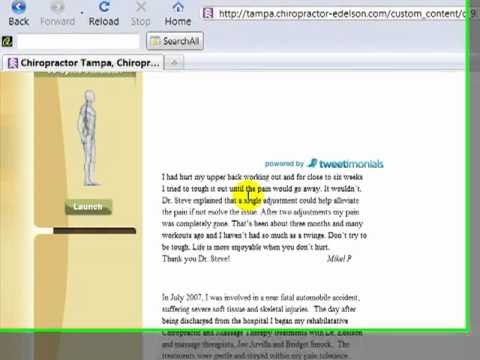 The reason videos are important in your chiropractic website is that 55% of how we communicate is visual. Most people would rather watch a video than read the text of your chiropractic website.
The reason videos of the doctor are so important is that the potential patient will start to develop trust in the chiropractors just by watching their videos. The only exception to this is if the videos are of bad quality, a lot of back ground distractions or the chiropractor just really does not come across very well.
When we set up our chiropractors website we have already taken 200 videos of the chiropractor answering all the common questions patients ask and addressing how the chiropractor can help with all the various conditions they marketing for.
Each video is only about one minute long and topic specific. We then take over 30 of the chiropractors videos and embed them into their chiropractic website.
We then take transcriptions of the videos and place the text all around the videos. The potential prospect would never have to read any text on the chiropractic website and yet they would have all their questions answered by the chiropractors videos.
For more information on how to get over 30 custom doctor videos for your chiropractic website give me a call at 813-480-1693.
Chiropractic Website, Automated New Patient Internet Marketing for Low Tech Chiropractors.
Call 813-480-1693
Chiropractic Website Company.
Like this post? Subscribe to my RSS feed and get loads more!