How to Check your Online Chiropractic Marketing Competition
Dr. Paul Hollern Demonstrates Internet Competition Analysis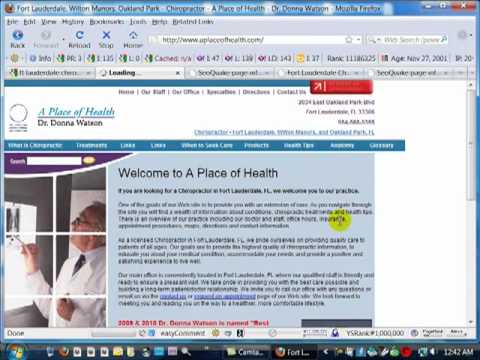 The second step in your online chiropractic marketing campaign should be to check your competition. The first step is to research your keywords or the words you want your content to show up on Googles first page when there is a search.
Knowing you competition will determine how difficult it could be to get your chiropractic internet marketing material on the first page. Remember if your not on the first page, your not in the game. Sometimes it can be better to go after a lesser keyword and dominate that keyword in the search engines than not show up on Googles first page.
Some of the factors to look at your competition are:
Meta keywords
Keyword used in the title tag
H1 tag keyword
H2 tag keyword
Keyword saturation
Alt tags
Number of back links
These are some of the major factors to look at when evaluating your online chiropractic marketing competition.
If all this sounds like Greek to you, give me a call, I specialize in chiropractic internet marketing for the low tech chiropractor.
Like this post? Subscribe to my RSS feed and get loads more!