Dominate Google for Chiropractic Personal Injury Marketing
Learn how to get 7 out of 10 links on Google's first page for chiropractic PI marketing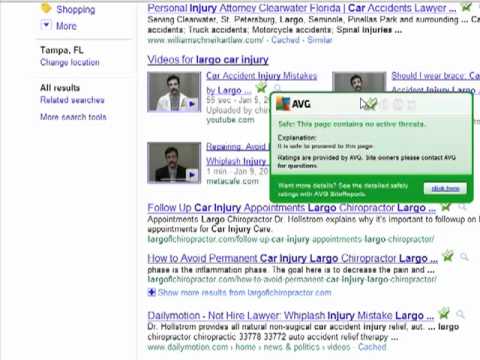 There are several methods to market your chiropractic practice for personal injury patients. One of the top 3 methods is having relavant content on about car injureies on the first page of google.
The internet is primarily used for information and entertainment.
One of the methods to market for PI patients is to create a series of videos giving information the typical car injury patient is looking for on the internet.
The process involves 6 steps:
Find relevant subject matter, do not talk about chiropractic.
Create short videos, less than one minute, giving this information.
At the end of the video send them to a squeeze page for more similar information
Get their email in exchange for additional relevant PI information.
After they give their email, send them the material over several days using a email auto-responder.
At the end of each video included in the email followup, give a call to action and contact information.
This chiropractic personal injury marketing systems is just one of several we set up for our chiropractic clients.
Give our office a call we can set it up for you. 813-480-1693.
Like this post? Subscribe to my RSS feed and get loads more!