Chiropractic Website Mistake No Video Watermark
Dr. Paul Hollern, Chiropractic Website Expert
One of the major mistakes chiropractors make on their chiropractic website is when they post videos and the videos do not have a watermark.
A watermark is the domain name of that chiropractors website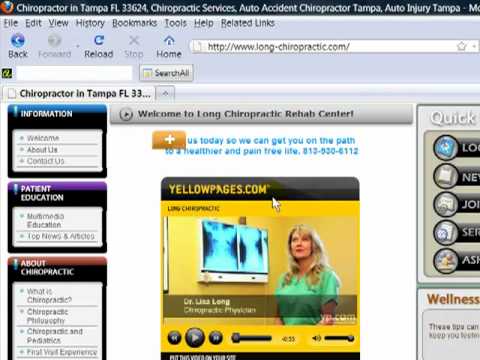 Your videos can and will be picked up by various sources. When you do not watermark your videos the viewer may not only not where to go for more information but if your content is used by others you will get the credit. They will not be able to take off your watermark.
The standard watermark is the domain name of you chiropractic website. Yet sometimes is can be a specific domain name relative to the information on the video.
In the creation of the video you definitely want to have all your contact information but as I said on occasion the description can be deleted and the video used for alternative purposes.
So when you create videos to use in your chiropractic website be sure to watermark them. It part of the editing process and should be discrete at the bottom of the page.
Remember if it's a representation of you and your website be sure it is professional looking watermark. Simple letters in white works just fine. The style or color of the watermark should not be outrageous or reflect your values.
Remember all marketing should represent the target marketing values.
So watermark your videos for your chiropractic website
For more information on how we take and publish to the internet and your chiropractic website 24000K videos give me a call at 813-480-1693.
Chiropractic Website, Automated New Patient Internet Marketing for Low Tech Chiropractors.
Call 813-480-1693
Chiropractic Website Company.
Like this post? Subscribe to my RSS feed and get loads more!